---
Designed with you in mind
After months of conducting user studies, planning, testing and retesting, we are happy to present the new Portal to Texas History. The new Portal contains the same interesting materials you've come to expect, but in a redesigned web site with easier to use navigation and searching. In the new Portal, you can:
target Basic Searches by material type or item record type
view brief or full records for each item
see any image in six different sizes
use enhanced zooming for maps and other large format items
get a suggested citation for an item
use the Share feature to send content to Facebook, MySpace, Twitter or other social networking sites
find Help in our extensive suite of help guides
and much more...
Behind the scenes, the Portal content now resides in a more robust system that ensures that we will be able to support ever-increasing numbers of users, add many more collections, and periodically provide new enhancements. For example, later this year we plan to roll out faceted searching that will allow you to filter your search results by category and find related collections or subjects.
Calling all Genealogists!
Over the past year the IOGENE Project at the University of North Texas Libraries has been working with genealogical societies and individual family history researchers in northeast Texas to understand how they use the Portal to Texas History. Their input led to several major enhancements in the new Portal. The redesigned Portal will help genealogists: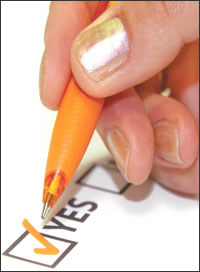 Discover anything from an ancestor's picture to
a rare historical map.
Explore resources for a specific Texas county.
Optimize searches using a Help guide for Genealogical Materials.
We are particularly interested in feedback from people researching their Texas ancestors.
A brief survey is accessible from the footer of most pages in the Portal. Please take a few minutes to complete the brief survey about your experience!

---
---
Abilene Photograph Collection

The Lab is now in the process of digitizing the Abilene Photograph Collection consisting of 10,000 4 inch x 5 inch black and white negatives dating from the early twentieth century to the present. The collection has a delightful assortment of images of community members, homes, businesses, churches and ranches. The collection details Abilene's rich history, capturing a multitude of public events in Abilene and surrounding areas as do these two portraits from Abilene's early years.
The collection is owned by Hardin-Simmons University and housed in the Richardson Research Center of the Southwest in HSU's Richardson Library. Developing the collection was a community project with McMurry University and Hardin-Simmons taking the lead role.

| | |
| --- | --- |
| | |
| Enjoying the pool. University of North Texas Libraries collection, 2006. | Getting Ready for Old Settlers Barbeque, Childress County Heritage Museum |
| | |
| Camp Wildurr on Village Creek in Hardin, First Christian Church, Port Arthur | Glen Lake Camp, Archives of the Central Texas Conference United Methodist Church |

Meet Jeremy Moore, Manager of the Digital Projects Lab, who organizes and oversees all the projects in the lab. He assigns projects to student assistants and maintains the equipment used for digitizing historic and contemporary content that is put into the Portal to Texas History and into the UNT Digital Collections. Jeremy began working in the lab as a student assistant in March 2005 and became the lab manager in February 2007.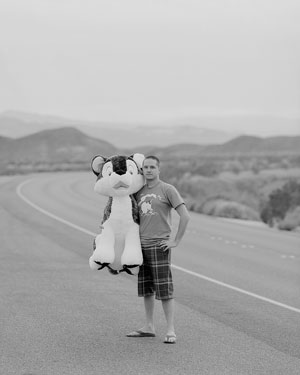 Jeremy hails from Springfield, IL; Charlottesville, VA; and Lake Dallas, TX. He is currently working on an MFA in Photography and an MA in Art History. He expects to graduate in 2011. He likes the facilities and scope of a university with 35+K students, but with a small college feel.

Due to his knowledge of photography and photographic processes, Jeremy is quite helpful when others need help dating photographs. He gives an educated assessment of dates based on stamps, brands, or logos on the prints. He has provided expert guidance regarding handling and scanning of glass plate negatives. Jeremy said this job has taught him a lot about managing people. He began with only four student assistants and now has over sixteen. He said that the "students never cease to amaze me with goofs and …great insights that have improved our output in the lab."
Outside the lab, Jeremy is serious about his photography. Most of his work is landscape-based using a Chamonix 4x5 camera. His artist statement describes his work as, "find[ing] beauty in the chaos of everyday life. He distills the world around him into images that existed for a single moment. [His subjects have] an acute sense of aesthetic form and geometric order." To view his work take a look at Jeremy's website. By the way, he has a show (Road Trip: Denton, TX to Las Vegas, NV) up at the Union Gallery at the University of North Texas Union through July 29, 2009.
---
---
Direct from the UNT News Release, July 2009 written by Nancy Kolsti


UNT receives additional funds to digitize historical Texas newspapers

DENTON (UNT), Texas -- The front page of the Sept. 10, 1900, issue of the Houston Daily Post contained an eyewitness account from a Houston businessman of "the great disaster that had befallen the nearby city." In the account, the newspaper reported that "at least 1,000 people" had been drowned, killed or missing.

Texans can now log onto the Internet to read this historic source of information about the hurricane that destroyed Galveston on Sept. 8-9, 1900 -- and ultimately killed more than 6,000 people, thanks to the University of North Texas Libraries' Digital Projects Unit.

The UNT Libraries is one of 22 state partners, and the only partner from Texas, to receive National Endowment for the Humanities funding to digitize newspapers from the late 1800s and early 1900s for the National Digital Newspaper Program, "Chronicling America: Historic American Newspapers."

The National Digital Newspaper Program, or NDNP, is a long-term effort from NEH and the Library of Congress to develop an Internet-based, searchable database of U.S. newspapers with select digitization of historic papers. NDNP will create a national digital resource of historically significant newspapers published between 1836 and 1922 in all 50 states and U.S. territories.

The UNT Libraries first received a two-year $397,552 grant from NEH in 2007, which allowed the Digital Projects Unit to digitize 108,000 pages of newspapers published in Texas. In addition to pages of the Houston Daily Post, which was established in 1885 and ceased publishing in 1995, the unit digitized pages of:
the Brownsville Daily Herald
the Jefferson Jimplecute
the Palestine Daily Herald
the Jewish Herald, now published in Houston as the Jewish Herald-Voice;
and the defunct Fort Worth Gazette, which was also published as the Fort Worth Weekly Gazette and the Fort Worth Daily Gazette.
The earliest pages of these newspapers date to 1883, and the latest to 1910.
All of the pages are now available on the Chronicling America web site and will be placed by the end of the summer on the UNT Libraries' Portal to Texas History, which provides students and others with a digital gateway to collections in Texas libraries, museums, archives, historical societies and private collections.
The UNT Libraries recently received an additional two-year grant of $399,790 to expand its digitization of historic Texas newspapers,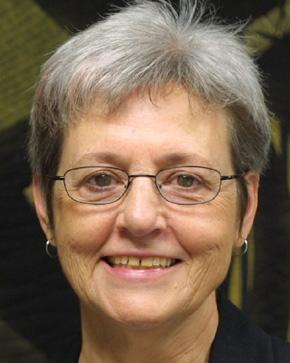 with pages from as early as 1860 and as late as 1922 digitized, said Cathy Hartman, the UNT Libraries' assistant dean for digital and information technologies.
In addition to providing those interested in Texas history with local perspectives of national news stories, such as the 1900 Galveston hurricane and World War I, Hartman said the 19th- and early 20th-century newspapers included human interest stories.
"They covered things that newspapers don't cover any more, such as whose relatives came by for tea," Hartman said. "That gives us a glimpse into what life was like in that community. The advertising is interesting as well."
Dreanna Belden, coordinator of grants and development for the UNT Libraries, said the style of reporting in these newspapers is also interesting.
"You read stories about murders and crimes, and they were so graphically written," she said.
Belden said a committee of scholars will decide the next round of Texas newspapers that will be digitized. These papers are on microfilm at the Dolph Briscoe Center for American History at the University of Texas at Austin, Texas Tech University and other locations throughout Texas.
The UNT Libraries are also are a partner with the Oklahoma Historical Society, which received a $307,000 grant from NEH to make 100,000 pages of historical Oklahoma newspapers available to the National Digital Newspaper Project. The Digital Projects Unit will provide the technical expertise for the OHS, which has 85 percent of Oklahoma newspapers ever published on microfilm, Belden said.
"In 1844, the Cherokees published the Cherokee Advocate, which was the first newspaper in what is now Oklahoma," she said. "Three newspapers existed in Indian Territory prior to the Civil War, related either to missions or tribal government, and 28 newspapers appeared between the war and 1889, the opening of the Unassigned Lands in the state to settlers. For the first time, these newspapers will be made available to the general public."

---
---
---
The A-to-Z Digitization Project encompasses all pre-1960 government documents selected by the UNT Libraries Government Documents Department for retro-cataloging purposes. We are digitizing them alphabetically, starting with the call letter A, which includes agricultural documents, such as the Farmers' Bulletin published by the USDA since 1889. These bulletins provide a snapshot of farming and the American household before 1960. For instance, some may chuckle at the bulletin titled "Chinchilla Raising" but Chinchilla fur was a popular fashion item in 1950. Topics range from "Rammed Earth Walls for building" to "Chrysanthemums for the home." The bulletin "Potatoes in popular ways" published in 1944 describes the nutritional benefits of potatoes and provides various recipes, possibly to help American households add variety to their rations during World War II.

---
Help us spread the word and please forward this newsletter to anyone you think will be interested.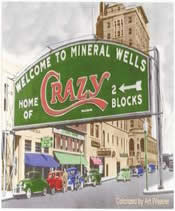 The A.F.Weaver Collection covers the founding of Mineral Wells through its mercurial growth as a resort center and army town up to the present. A. F. Weaver was a photographer and local historian, and the collection includes photographs that he took as well as photographs he collect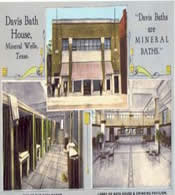 Above is an ad for the Davis Bath House in Mineral Wells. The A.F. Weaver Collection includes a number of photos of bath houses in Mineral Wells, a town that was a popular vacation destination because of its reportedly healing waters.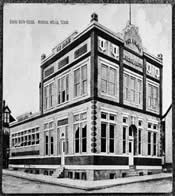 The Bimini Bath House, later known as the Wagley Building, was also a popular stop in Mineral Wells.
Hot Comments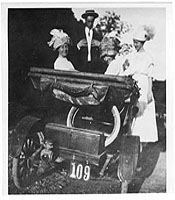 "I found your webpage while doing genealogy research in the Bosque County Collections. I am thoroughly impressed with all you have done with this site and the ease of use. Just wanted to say thank you."

-Suzy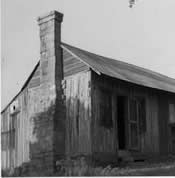 "Great Picture! It's interesting to see and read about some of your family history. The Ledbetter Picket House belonged to my Great Grandmother who was Elizabeth Ledbetter Cox, My mother who passed away in 2000, used to play here when she was a little girl, I used to hear the stories about the Indians when I was a young man."

- Ellis Broughton
Image of the month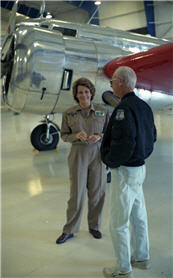 Aviator Linda Finch stands in front of the Lockheed L-10A Electra aircraft in which she successfully recreated the last ill-fated flight of Amelia Earhart in 1997, known as "World Flight 1997."
This image comes from the collections of our partners at the Genevieve Miller Hitchcock Public Library.
Mission Statement
The Portal to Texas History offers students and lifetime learners a digital gateway to the rich collections held in Texas libraries, museums, archives, historical societies and private collections.
Sign up for the Portal to Texas e-Newsletter!
Please forward this newsletter to friends, family, or anyone else who loves Texas history! If you'd like to sign up for our newsletter, just click the link above and send the email.

On Facebook? Become a fan of the Portal!
Join in discussions, post your finds to the wall, get the latest news - easy!

Who knew? you can find anything on the
Portal, really . . .

A search for "shoes" finds 2699 results. Here are a few.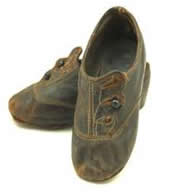 Pair of child's leather shoes with pegged heels; three buttons and scallops on side of each, Star of the Republic Museum collection.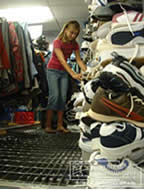 Girl with a pile of shoes, photographer Jose Castillo, University of North Texas Libraries collection.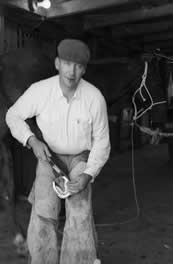 Don Baskins nailing a shoe on a horse in Hereford, Texas, Deaf Smith County Library collection.